Join us on an unforgettable adventure
Luxury 4WD Safaris exploring the ancient Daintree Rainforest
FIND OUT MORE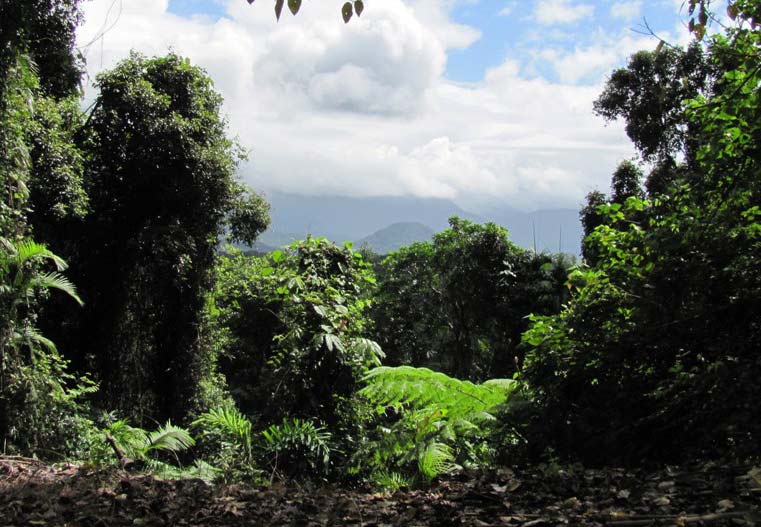 Daintree Australia – the oldest rainforest on Earth.
A trip to beautiful Tropical North Queensland is not complete without a visit to this ancient and unique wonder nestled along the sparkling shores of the Coral Sea and touching the legendary Great Barrier Reef.
Nicholas Fox will be your guide as you spend the day exploring one of the world's great natural treasures, the ancient Daintree Rainforest.
Exclusive Daintree rainforest safari tours for small groups.
With over twenty-five years' local experience, National Park permits and World Heritage Accreditation, Daintree tours with Nicholas Fox are an experience not to be missed.
On our small 4WD safari you will discover a rare place of exceptional beauty and biodiversity, filled with plants and animals found nowhere else on the planet.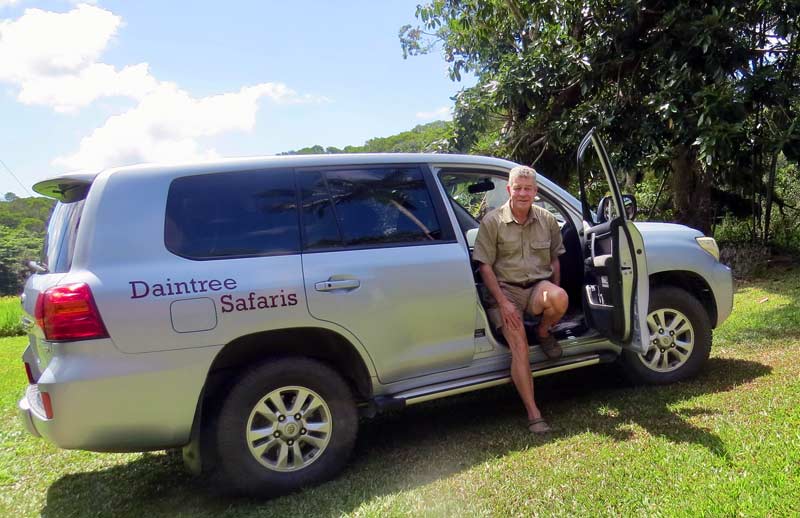 Daintree Safaris invites you to explore one of the most fascinating parts of our world in luxury and style -
the Daintree Rainforest.
Unlike most tour companies, our safari takes just six guests per day.
We travel in the comfort of a spacious, late model Toyota 200 Series Land Cruiser featuring individual air conditioning and equal leg room throughout.
After all, you've come a long way to see us and we think that you deserve a first-class experience.
Only $230 per person Max six guests per tour.
$1380 for private charters.
Daintree Safaris - Our Tour
Hover over each image for an overview of our tour
The Daintree is a living remnant of prehistoric times. It is a unique place where kangaroos live in trees and giant birds roam the dense undergrowth.
This precious World Heritage listed rainforest is estimated to be around 150 million years old which makes it about 136 million years older than the Amazon. Just imagine what other marvels lie within.
Daintree Safaris knows exactly how to show you the best of the Daintree Rainforest and create memories that will last you a lifetime.
OUR GUESTS HAVE SAID WONDERFUL THINGS ABOUT US
We had an incredible experience with Nicholas fox. His great love and passion for the wildlife really showed through in his tour and inspired us deeply.

We too, saw the beauty in the rainforest and learnt so many new and interesting quirks about the Daintree. Not only this, but also where the only two world heritage sites (the coral sea and the Daintree rainforest) meet - it was magnificent.

We can't thank you enough for such a genuine and intimate experience. It will be one we forever remember and cherish.
A must do tour!! My husband Hesh and I enjoyed an amazing day with Nick on our honeymoon last month. We were super lucky to have just the two of us on the tour in his land cruiser that day (it is so nice to have the option of a small group rather than the larger buses).

Nick was a encyclopaedia of information on all of the flora and fauna of the daintree and surrounds. We enjoyed a beautiful morning tea at cape tribulation (with the BEST apple muffins) and a fantastic lunch at a tea house (the most amazing barramundi was served there).

We were so lucky to see a male cassowary and his three chicks. It was an amazing day with so many inclusions for the price and time spent.
A WOW Experience! Nicholas took us on a bespoke tour in a 4WD vehicle, he was passionate about sustainability and the Aussie history together with the human origin and the respect for the history. This was a WOW tour lots of information from a very attentive guide and being the owner and operator of the business he had a keen interest on giving the best experience possible.

The restaurant food was just perfect with a choice of fish or steak as the main wow dishes with some other choices.

The tours are limited to six people max. Watch out for the wait a while! Nicholas will explain.
Nick's knowledge of the Daintree is almost unbelievable. He didn't just write the book on this place, he is the book (Nickopedia).

Some highlights include seeing some local reptiles we'd never have seen on our own, an amazing swimming hole we'd never have found and seeing the effect aboriginal tool making had on the root systems of the rainforest in places. Something we would never have worked out for ourselves.

Lunch was amazing, the croc cruise provided plenty of opportunities for seeing crocs in the wild and the vehicle is very comfortable. Thanks again!
We had a great day with Nicholas as our host and guide. Loved that this is a small group - we only had four on our tour and it was so much fun.

As per other reviews, Nicholas is a walking encyclopedia! One of the trip highlights was seeing a cassowary with three chicks... very special. The secluded rock pool was awesome to swim in. I was reluctant at first but was so pleased that I had a swim.

My husband and I highly recommend this tour... forget about the larger tour groups... Everything from the home made muffins to fresh fruit for morning tea and lunch was fantastic. A 'must do' tour.
So many memorable moments - we saw a cassowary which was a massive highlight, but I think it was more special to learn about cassowaries and their history and critically endangered status. We saw the Ulysses butterfly after eating the best ice cream ever at the Daintree ice cream company.

We swam in a stream that was definitely invigorating and learnt about "wait a while" along with so many other things in the Daintree.

Nick is a walking wikipedia, google, and almost David Attenborough rolled into one, with a touch of humour. Also learnt about native fruits at our lunch and the difference between farm and wild barramundi. Great value, a memorable experience.
Fantastic day, fantastic guide in the most magical place!

My husband and I were fortunate to spend the day touring this magical place with guide Nicholas. Nicholas experience, kindness, passion and knowledge made this the most memorable day of our trip. We highly recommend this tour to anyone. Morning tea, lunch and the daintree icecream were all as wonderful as were the settings. The boat trip was fantastic and we saw a huge male croc called scar face and a few juveniles.

Thanks again Nicholas for a fantastic day.